In January 2021, Depop set out a
two-year Sustainability Plan
which was designed to promote and further develop a culture based around creativity, circularity, equity and exchange.
Built across four strategic focus areas – governance, planet, people and platform – the commitments in the two-year plan focused on improving environmental impact, embedding equity throughout the Depop experience, and helping make circular fashion the first choice for consumers.
We're proud to share our year one progress, as well as a view of what's to come for Depop and our community in year two.
How to read our progress update:
Completed: all targets underpinning the goal have been met
On track: work has started across all targets underpinning the goal, and some have been met
Some progress: work has started across some, but not all, targets underpinning the goal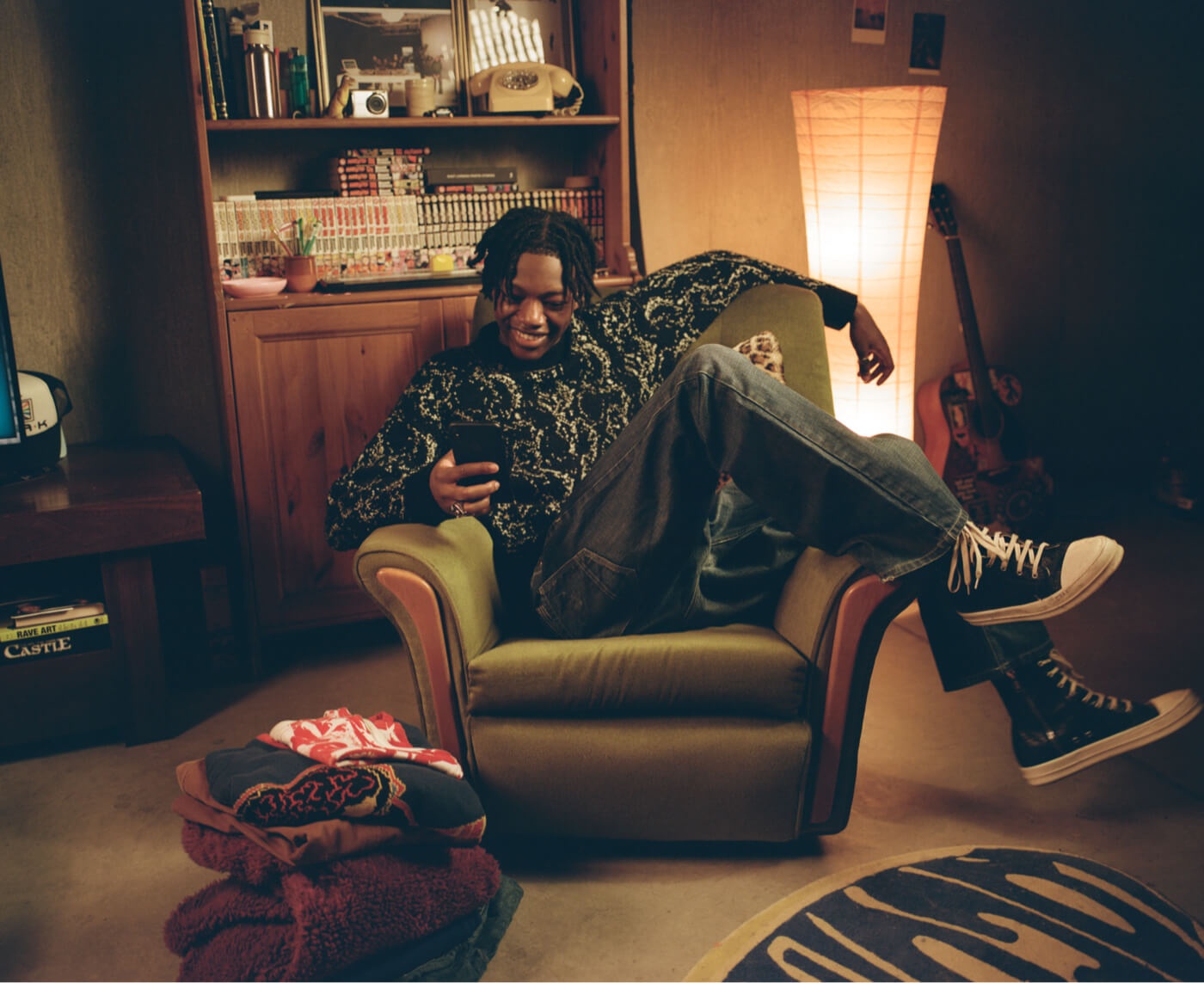 Governance
GOAL: Create a strong governance for sustainability at Depop
STATUS: Completed
Formally embedded sustainability and DEI priorities in Leadership and key business functions' quarterly objectives via the introduction of Depop's ESG board. The board consists of our Executive Team and senior leaders representing key business functions to drive and be held accountable to cross-functional ESG objectives that progress our impact agenda on a consistent, annual basis.
Furthered our ongoing DEI training efforts by conducting two mandatory inclusion training workshops for all of Depop, led and developed in collaboration with an external vendor.
Strengthened policies and procedures and conducted training to address key ESG risks such as corruption, GDPR, harrassment and discrimination, insider trading and greenwashing, as well as updated our employee performance review process to formally include both sustainability and DEI considerations.
GOAL: Align our operations with best responsible practices
STATUS: On track
Aligned our practices with B Corp standards, using the B Corp score as an internal KPI with an aim to achieve 80 pts (i.e. certification level), by implementing initiatives to improve our environmental, social, and governance performance. Initiatives include, but not limited to: measuring our GHG emissions and setting reduction targets, expanding our Learning & Development (L&D) training selection and introducing a personal L&D allowance, introducing a bonus and Restricted Stock Units (RSU) scheme as a result of partnership with Etsy Inc, initiating work to measure the social and environmental impact of our marketplace, and formally considering environmental criteria in the selection of our new office.
In 2022, we are working to roll out a supplier code of conduct to ensure good social and environmental standards are upheld within our supply chain.
GOAL: Engage with our key stakeholders to inform our actions
STATUS: Some progress
Though we have already held sessions with Top Sellers from underrepresented communities in the US to consult on decisions that affect our community at large, in 2022, we will conduct a stakeholder engagement exercise aimed at understanding the most important ESG issues for our stakeholders related to our business, in order to inform the next iteration of our sustainability plan.
GOAL: Future-proof the impact of our charitable activities
STATUS: Some progress
---
People
GOAL: Promote diversity, equity and inclusion in our workforce
STATUS: On track
Depop launched an Employee Resource Group (ERG) programme designed to foster a culture of inclusion and belonging through attracting, supporting and engaging Depop's own talent. ERGs are voluntary, employee-led and company sponsored groups united in a common interest, issue, background or characteristic. To date, employees have formally launched Mental Health & Wellbeing and Underrepresented Gender Identities in Tech Depop ERGs.
In partnership with an external vendor, we have conducted a company wide inclusion audit using neurotechnology to measure how staff truly feel about working at Depop to inform future DEI strategy.
In 2022, we are working to realign our representation targets in line with updated benchmarks with a view to share progress following the publication of our 2021 Gender and Ethnicity Pay Gap Report
GOAL: Promote staff wellbeing
STATUS: On track
In the past 12 months, we have introduced the following benefits for our global employees, with a specific focus on mental and physical health support: 1) introduced life insurance and private healthcare for all global employees, 2) introduced mental health days as a time-off option, 3) increased access to mental health resources including free annual memberships to Headspace, therapy via Self Space and trained in-house mental health first aiders.
Provided the option for all global employees to take two Impact Days to undertake volunteering activities. In 2022, we will launch a programme to increase the uptake of Impact Days.
GOAL: Promote equitable pay and ensure fair wages for our staff
STATUS: Completed
Continued to pay a living wage across all our territories and obtained living wage certification in the UK, including all our direct contractors and providers of outsourced services (i.e. cleaning, security).
In 2021, we conducted a Global Market Salary Review, which took gender and ethnicity into consideration, to benchmark and subsequently adjust salaries of our employees accordingly.
In 2022, we published Depop's first Gender Pay Gap Report in line with UK legislation and voluntarily reported our Ethnicity Pay Gap for transparency.
---
Planet
GOAL: Run a low-carbon business
STATUS: On track
In 2020, we began by offsetting our shipping emissions, targeting the biggest driver of our carbon footprint.
In November 2021, we went one step further and became certified as a climate neutral company. through measuring and offsetting all measured sources of scope 1-3 greenhouse gas emissions produced in 2020, including shipping, offices and utilities, IT equipment and cloud services, employees' commute and work from home. See here for more details on our methodology
In 2021, we expanded the scope of our GHG inventory to include seller packaging and end user energy use. Our 2021 scope 1-3 emissions represent 19,468 tCO2e which have successfully been offset through verified carbon units (VCUs) and verified emissions reductions (VERs).
In 2022, and as part of Etsy Inc., we set a group Net Zero[1] goal to achieve targets aligned with the science of climate change while continuing to run a carbon neutral company[2]. See here to learn more about what this means for our impact.
Joined Tech Zero, a group of tech companies of all sizes around the world who are committed to fighting the climate crisis. Tech Zero is an official partner to the UN Race to Zero and is backed by the UK Government.
GOAL: Run low-impact operations
STATUS: Some progress
Set a new target to run "Zero Waste" operations by 2025, by achieving an average of 90% or greater overall diversion from landfill and incineration (waste-to-energy).
Made sustainability a key criteria in the selection of our new London headquarters. Our new landlord has publicly committed to run its offices with 100% renewable energy, achieve zero waste to landfill and become net zero carbon by 2030.
Worked with Reyooz during our HQ move to maximise the reuse of existing fittings, furniture, electrical equipment and carpets – saving 8,427kg of waste from ending up in landfill or incinerated.
Installed motion sensors and time-restricted lighting in our meeting rooms, and introduced a textile recycling point for items that cannot be sold via Depop or swapped in our swap shop for staff.
As part of our broader integration into Etsy Inc., we plan to leverage the group's existing processes to formally embed sustainability criteria into our procurement decisions in 2022.
GOAL: Power Depop with renewable energy
STATUS: On track
In 2021, 87% of our total office energy use was powered by renewables (89% for controlled offices).
We've partnered with a renewable energy provider to offer discounted access to energy tariffs for UK-based employees.
---
Platform
GOAL: Promote circularity in our community
STATUS: Some progress
Launched a dedicated programme to help charity shops build online businesses on Depop - providing charities with tools, resources, exclusive offers and personalised support to effectively leverage Depop as an e-commerce channel.
Launched a partnership with Ecover, to help consumers extend the life of clothing and help fight fashion waste, through a content series showing people how to wash right, wear more and waste less.
GOAL: Empower our users to easily buy and sell mindfully on Depop
STATUS: On track
Launched a new app feature that enables sellers to specify the composition of an item (e.g cotton, wool) giving buyers greater visibility of an item's qualities.
Introduced a Top Seller Code of Conduct factoring environmental and social considerations in order to empower our Top Sellers to adopt more sustainable practices in their shops.
Continued to showcase sellers thrifting, upcycling and repairing garments via our marketing channels - making secondhand more desirable and accessible.
Created a series of educational videos on wholesale sourcing to support high potential sellers in sourcing second hand garments at scale.
GOAL: Lead by example by designing circular collaborations
STATUS: On track
Partnered with brands and sellers to bring circular collections to our community, including:

Benetton - Curated collection of Benetton pieces that expressed the brand's eclectic spirit and focus on colour, hand-selected by British and American sellers who specialise in second-hand and vintage apparel.
Levi's - Reimagining vintage 501 jeans and trucker jackets into new pieces with three of our sellers.
Ganni - Reworking its famously oversized collars, upcycling them with embroidery, embellishment, fraying and trimming via six of our sellers.
HURR Collective - Finding a forever home for pieces at the end of their rental life.
Adidas Originals - A collaboration that saw a handful of our sellers reimagine the classic Stan Smith silhouette, made with some recycled materials, through customisation and restyling.
Ace & Tate - Hosted Reframe, a resale initiative for the Dutch eyewear brand using excess materials to create new sunglasses.

Partnered with the TV and entertainment industries to bring circular fashion to large audiences, contributing to normalising second hand in pop culture:

Netflix - The cast teamed up with each of their own Depop stylists to create their Tall Girl 2 launch looks, showcasing a secondhand-first mindset in place of the usual practice of wearing current-season pieces in promotional photos.
The BRITs Awards - Dressed rising star Holly Humberstone for her performance, alongside all of her dancers who exclusively wore secondhand items; other BRITs nominees including Joy Crookes and Tom Grennan curated lists of sellers they like in app.
Gossip Girl - Costume Designer Eric Daman consulted with Depop's Top Sellers to source vintage and secondhand pieces to curate 4 x Depop shops inspired by the wardrobes of some of the most iconic characters from the show, emphasising the relevance and fashion credibility of pre-loved clothing
GOAL: Promote diversity, equity and inclusion in our marketplace
STATUS: Some progress
Conducted a survey to understand diversity characteristics of our community, and the extent to which users feel they belong to the Depop community.
Took steps to improve accessibility across our iOS, Android and Web platforms to make the Depop app and website more accessible to users using digital assistive technologies.
GOAL: Cooperate with others to promote the importance of sustainability and diversity in the fashion industry and beyond
STATUS: On track
Published the Depop x Bain Company Report in June 2021, a piece of research investigating Gen Z's influence on business as usual, including by reimagining newness in fashion with sustainability at heart.
Collaborated with the Ellen MacArthur Foundation on its series on Circular Business Models in Fashion with a case study outlining Depop's contribution to making second hand accessible and desirable.
Partnered with the Black in Fashion Council in February 2020 to bring a series of talks and conversations to our community - celebrating Black culture's impact on fashion and empowering a new generation of creatives by showcasing the work of 7 Black Depop Sellers.
GOAL: Create economic opportunities for underrepresented individuals
STATUS: On track
Developed and launched Now/Next, a programme focused on supporting and accelerating the sustainable efforts of our community. In 2021, we launched two editions of the programme:

Now/ Next Circularity Edition was a 6-month mentorship programme featuring 5 global creators working to scale circularity in their own businesses. Participants received a grant of £5,000 and monthly exchange sessions with Depop team members to scale their business - on topics including business skills, brand, PR and sustainability. Their journeys were shared via a monthly content series raising the profile of their work, and giving them access to media opportunities.
Now/ Next Grassroots Edition was a 3 month mentorship programme aimed at seeding smaller scale projects with a positive impact on people or the planet. We provided 4 individuals from our community with a £500 grant, alongside one-to-one coaching and showcased their project via our social channels. Projects notably included a project to give sellers access to reused mailers, an event to raise awareness around sustainability in a local community, and a campaign to upskill sellers of secondhand items on sustainability.
[1] The SBTI Net Zero Standard defines Net Zero as follows "State of net-zero emissions: Companies shall set one or more targets to reach a state of net zero emissions, which involves: (a) reducing their scope 1, 2 and 3 emissions to zero or to a residual level that is consistent with reaching net-zero emissions at the global or sector level in eligible 1.5°C scenarios or sector pathways and; (b) neutralizing any residual emissions at the net-zero target date and any GHG emissions released into the atmosphere thereafter."
[2] Historically Depop has used the terminology 'climate neutral' in line with the South Pole label. Going forward, we will use the terminology 'carbon neutral' in line with Etsy Inc. and will continue to balance our measured GHG emissions through investing in verified emission reductions (VERs).